Glorious Gardens

design . planning . planting
Planting
Plants are the crowning glory of a garden. I prefer to finalise the planting plan after construction is complete. This enables you to walk around your garden, have a better idea of how you will use the spaces and to view it from different aspects to make sure that the planting will produce just the effect that you want.
We meet to discuss the plants you would like in your garden, colour schemes, personal circumstances (for example you are always away in August), budget and the overall effect you want to create. As much of these as possible is included in the draft Planting Plan to produce a coherent effect. This is reviewed with you before the final Planting Plan and Planting Schedule is drawn up. The planting can be phased to fit your budget.
I offer a planting service, supplying the plants and incorporating any of your own. Ideally, I like to plant with you so that your garden really becomes your own.
I can also supply plants at a discount for you to plant yourself.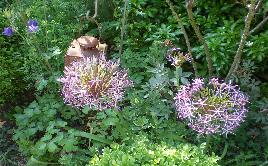 Planting Plans showing where each plant is to be planted and is accompanied by a Planting Schedule which details numbers and sizes of each plant on the Planting Plan.
Optional Maintenance Notes give a season-by-season guide to what you need to do with the plants in your garden, with detailed notes on more specialist pruning and training.